What we believe
At Cornerstone we believe in the great commission... As such we believe that sending people out on mission and partnering with organizations who are living out the great commission is central to what we do as a church.
Our Partners
As a church we have chosen to allow our partnerships to go deep as opposed to wide. We support many different organizations but two have become our central focus. One locally and one internationally.
Locally: Hands On Outreach & Development Centre

Hands On "is a registered charitable organization dedicated to serving the physical, emotional and spiritual needs of Saskatoon's inner city children and youth. On a daily basis we provide a safe environment, healthy meals, clothing, activities and entertainment such as books, videos, ping pong, billiards, foosball, board games, hockey, basketball, football, arts and crafts.
Hands On is the vision of founder and CEO, Rick Langlais, who opened the doors of the ministry in 1992. Today Rick, his staff, and the Hands On Board of Directors operate the centre exclusively with charitable donations and a vast network of hard-working volunteers. Hands On has proven to be a valuable practical training resource for students from local colleges, the University of Saskatchewan and various churches."
Current Needs
The work that Hands On does is amazing but in order to minister well to the kids and students they encounter there is always an ongoing list of needs. To see what Hands On's current needs follow this link.
Globally: Haiti ARISE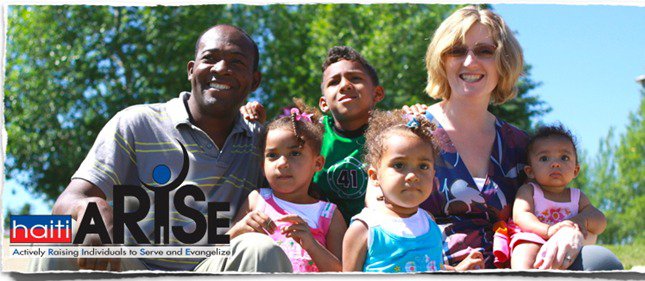 "Marc and Lisa Honorat founded Haiti ARISE Ministries from a vision of planting a Bible College to help train godly leaders. This vision grew to encompass everything that Haiti ARISE is now endeavouring to accomplish to help the Haitian people. Marc is a native Haitian and has a desire to see change in his nation because he knows the peoples' plight so well as he experienced it himself.
Haiti Arise mission is to "raise up godly leaders, providing relief to poverty and creating hope for a strong future for the people of Haiti."
Latest Update
CALL TO PRAYER FOR HAITI
Civil unrest and massive protests are taking place all over the country right now. Nothing is open, schools have been closed all week and roadblocks are preventing anyone from being able to travel.
The protests are in response to serious price hikes, inflation, and plummeting Haitian gourds exchange going from $1 US to 65gds to now 82gds in just a matter of months. The people want President Jovenel Moïse to resign.
We have a team of 24 here from Alberta. We held an amazing women's conference that was so powerful! The team was scheduled to leave today, but now with the unrest, travel is impossible and they are stuck here till the roadblocks clear.
Our staff and volunteers on the ground at Haiti ARISE are safe and we are actively monitoring the situation.
What can we do...we can PRAY! For the next 48 hours, we are calling on our friends, churches, and partners to gather together, lean in and pray for Haiti. On the ground at Haiti ARISE we will be praying too!
Let's together PRAY FOR PEACE IN HAITI!
'Open the gates that the righteous nation may enter, the nation that keeps faith. You will keep in perfect peace those whose minds are steadfast because they trust in you. Trust in the Lord forever, for the Lord, the Lord himself is the Rock eternal.'
Isaiah 26:2-4
Get in Touch